Get Your Bird to Follow Your Commands

With Our Proven Nature Based Training
Watch the video below to discover what is inside the program
Train your bird to follow your commands and solve all behavioral issues, without wasting time trying to figure out everything on your own. Get your questions answered by expert bird trainer - Cassie Malina in LIVE training sessions.
Like many others before you, get results in a matter of weeks.
Try RISK FREE - 14 day 100% money back guarantee. Right now get lifetime access for only $197 (Limited Time Offer)
Get This Offer Now
"I always thought my sulphur crested cockatoo, Rita, was 'my bird' only. She would never go to my husband willingly. She would bite and lunge at him. But we were able to change that in a week thanks to the training."
Joanne G.
"I didn't know what I was doing wrong all this while. I've had my African Grey, Percy for 12 years. But she is stepping up now, which she didn't do before. I also got a lot of other pointers in the training that I can use with her"
Gudrun S.
"Cassie is a true animal expert. She really understands animal behavior and knows just what to do given whatever the issue. Besides being great with animals, she's a great human too. Patient, understanding, and a great listener."
Amy S.
What would life be like if you could teach your bird to
follow your commands

?
Dear Parrot Parent
Many people believe that parrots are difficult pets to train.
Indeed, as parrot parents, many of us have one or more of these beliefs:
Biting is a part of having a bird
Parrots are loud, they will scream
Parrots bond to only one person in the house
Bad behavior is a characteristic of a hormonal bird
Fortunately, all these behavioral issues can be solved.
Parrots are some of the most intelligent animals. It is possible to teach your parrot to follow your commands.
But then, why do most parrot parents struggle when it comes to training their pet bird?
The reasons are logical, but not easily understood by parrot parents.
People use training methods that do not align with their bird's natural behavior and instincts
When that happens, your bird "reacts" and the behavior that you are working on only worsens
Most people do not get their information from the right sources, they think that watching a few online videos is enough for them to train their bird
So what is the solution?
Your bird's behavior at home is a reflection of its behavior in the wild that it has developed over millions of years of evolution.
We have been working with pet birds for the last 25 years.
In our quarter of a century of experience, we have found that basing your training on your bird's natural instincts is the most effective solution.
And that is why we have created Parrot Parent University.
Parrot Parent University is the most comprehensive, nature-based parrot training course available.
Over the years, we have developed our methods of training that keep your bird's body language cues and natural behavior in mind when training.
As our birds develop trust with us, they are willing, even eager, to participate in their training and you will see results in a matter of weeks.
Our methods have produced amazing results with parrot parents and even other bird trainers over the last 25 years.
And now these same methods are available to you in this course.
What is inside

Parrot Parent University?

Parrot Parent University is an easy to follow and comprehensive nature-based parrot training course that is available.

And when we say parrots, we mean the whole psittacine family including parrots, lovebirds, budgies (parakeets), lories, cockatiels, cockatoos etc

Parrot Parent University is designed to produce results in a matter of weeks.

Here, you will learn how to manage a variety of real-life situations that you come across when training your pet bird.

You will get the exact information you need to be successful in training your bird, without wasting hours of your time rummaging the internet, trying to find a needle in a haystack.

Here is what all you will get in Parrot Parent University.
Stop Your Bird from Biting
You will learn how to end painful encounters with your parrot and train it to stop biting.
You will learn how to set up your bird's environment to eliminate the probability of biting.
End Screaming Sessions
At 135 decibels, parrots can be as loud as a jumbo jet taking off.
You will learn how to maintain a peaceful household and get your parrot to stop screaming.
Velcro Bird? Let's get that sorted
You will learn how to get your parrot to stop being a velcro bird who is always sticking to you.
You will also learn how to get it to bond with others in the family.
Manage a Hormonal Bird
Every so often, when your bird gets hormonal, it can stress out anyone.
You will learn how to keep your life sane during those crazy times.
Understand Body Language
Your bird clearly tells you what it wants with its body language.
You will be able to decipher your parrot's body language so that you can eliminate behavioral problems at their root.
Commands to Make Life Easier
You will learn how to make your life easier by getting your bird to follow commands like Step Up, Step Off, Get In.
Target Training
You will learn one of the most versatile training for your bird - Target Training.
The right use of target training can help you solve many behavioral problems.
Think of it as learning the alphabet for learning to write.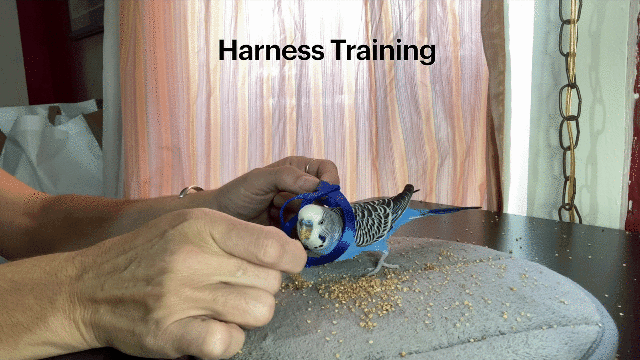 Harness Training - Take Your Bird Outside
Want to take your bird outside but not sure how?
You will learn how to do correct harness training so that your bird can be safe when you take it out.
End Feather Plucking
Feather plucking can have many root causes.
You will be able to identify why your bird is plucking its feathers and how to stop it.
Voluntary Grooming
Grooming your bird at home will not only save you money, it will also create a healthy bond.
You will learn how to get your bird to participate in voluntary grooming sessions.
Manage Other Real Life Situations
You will learn to manage real life situations with your parrot.
Set up the cage right, introduce your bird to other pets, teach them recall, travel with them, leave them with a sitter or go to a vet
Save Money - Member Discounts
Get discounts on almost all products and services that you already buy for your bird.
Your savings through our discounts alone will

pay for the course and all the learning is practically free!
Connect with Others - Never Feel Alone
Interact, get support and commiserate with fellow parrot parents who want the best for their birds.
Form lifelong bonds. Come for the training, stay for the community!
Meet Your Instructor - Cassie Malina
With Parrot Parent University, you and your bird will be in very safe hands.
Your instructor, Cassie Malina has a quarter of a century's experience working with birds, especially parrots of all kinds.
For over two decades, she produced & performed in free flight bird shows at Disney's Animal Kingdom and at many other shows across the US. She has delivered hundreds of workshops, seminars, lectures and presentations on parrot training.
A Certified Parrot Behavior Consultant with International Association of Animal Behavior Consultants she keeps abreast of the latest in the world of parrot training.
Cassie sat on the Executive Board of the International Association of Avian Trainers & Educators for 20 years where, she received a Lifetime Achievement Award.
Some Successful Parrot Parents
Here are some successful parrot parents who have succeeded with their birds using our training methods.
And Some More Happy Parrot Parents...
Miranda Adams
G. M. Sutton Avian Research Center
I came to Cassie with 7 birds, 5 different species, some of which had never voluntarily crated, none of which had ever moved while crated.
Within 1 week with her help on reworking diets, altering enclosures, modifying crates, and of course being available for live training sessions via zoom, all of our birds not only willingly crated on the day of the renovations but returned to their crates for daily training the very next day!
Robin F.
California
Cassie is incredible! I have a very smart and sassy green cheek conure son, and Cassie has been helping me learn how birds like to communicate and learn! The first lesson we had my GCC went from only knowing how to step up to actively target training and flying from cage to target.

Cassie is personable, patient, kind and able to explain things in multiple ways for you to understand better.
Live Training Schedule
Parrot Parent University is the only parrot training course where you can learn live how to train your bird with a professional bird trainer.
Here is our live training schedule. Please note, all times are Eastern Time.
Further live training sessions will be announced directly to our students.
Do not worry if you are unable to attend any of these sessions. All session recordings are available to our students.
May 12, 2023, 1:30 pm - Diet and Nutrition and Its Impact on Parrot Behavior
May 15, 2023, 11:30 am - Understanding Parrot Body Language, Basics, Wild vs. Pet, Motivations
May 22, 2023, 10:30 am - Target Training
May 31, 2023, 11:30 am - Step Up/Going in the Cage Force Free
Jun 5, 2023, 10:30 am - Stop Your Parrot from Biting
Jun 7, 2023, 1:30 pm - How to Handle a Screaming Parrot (and Speech Training)
Jun 21, 2023, 11:30 am - Managing a Hormonal Parrot
Jul 12, 2023, 11:30 am - Recall Training
Jul 26, 2023, 10:30 am - Training for Vet Procedures - Scale and Towel
Aug 2, 2023, 11:30 am - Training for Vet Procedures - Carrier
Aug 9, 2023, 11:30 am - Training for Vet Procedures - Syringe
Aug 16, 2023, 11:30 am - Training for Vet Procedures - Nail and Wing trims
Aug 23, 2023, 11:30 am - Harness Training
Aug 30, 2023, 11:30 am - Training Inactive Parrots (Perch Potatoes) Train Your Parrot to Forage
Sep 6, 2023, 11:30 am - Bonding with Extended Family
Sep 13, 2023, 11:30 am - Trick Training - Turn, Wave, Retrieve
Sep 27, 2023, 11:30 am - What to do when you get a bird whose history you do not know?
Oct 4, 2023, 11:30 am - Bonding Two Birds
Oct 11, 2023, 11:30 am - Advanced Training - Traveling with Your Bird, Feather Destructive Behavior
Oct 18, 2023, 11:30 am - Parrot Free Flight Training
Oct 25, 2023, 11:30 am - Behind the Scenes of a Bird Show
Parrot Parent University is right for you if
You value time and following a proven plan that has worked for others before you.
You are excited about getting the support you always wanted for your bird.
You are excited about getting your questions answered live by expert bird trainers.
You are looking to be a part of a supportive community of parrot parents.
You are looking to save money through our member discounts.
You want to give your bird the best life it deserves!
Parrot Parent University is NOT for you if
You are looking for a quick solution. Training a bird takes time and effort. We make it easier for you but it will require work on your side. And unfortunately, nowhere will you find a "quick fix".
You are looking for movie-quality video production. Our education is delivered through live webinars where we focus on world-class trainers delivering great value. We produce results not film quality videos with trained birds.
You'd rather rummage through the internet looking for "free" training from people who are not necessarily parrot trainers themselves
Frequently Asked Questions
You've got questions? We've got the answers.
When will I get access to all the resources?
Can parrots be trained online? Is online training effective?
Why do I need to pay if I can learn everything for free on Youtube?
Is there a guarantee? How does the money back policy work?
Get your bird to follow your commands - All for the cost of a family dinner
Thank you so much for making it this far. If you are here, like us, you certainly love your bird. And now is your opportunity to give it the best it deserves!
Right now you have three choices.
Choice 1 – Do nothing and continue with your life. Probably the easiest, but if you decide that, we promise, the situation with your bird will only go downhill with time.
Choice 2 – Try to figure things out on your own on the internet. But, ask yourself, is that the best decision by your bird? Can you trust the knowledge that you get on the internet? And even if you can, do you have the time to do all that on your own?
Choice 3 – Enroll in Parrot Parent University and learn how to train your parrot from a professional bird trainer. All for the cost of a family dinner, develop a lifelong relationship of trust and love with your bird!
To make that decision financially easy for you, we give a 14-day, no questions money back guarantee.
And as our student, you also get member discounts on normal parrot products where you can save more money than you pay for the course!
So decide now and we look forward to seeing you on the inside.
100% Money Back Guarantee
Parrot Parent University is backed by our no questions, 100% money back guarantee. You can try us RISK FREE for 14 days.
If for any reason, you are not satisfied by the course or you think it is not a good fit, just email us within 14 days of your enrollment. We will happily refund you 100%, no questions.
© 2023 Beautyofbirds.com
By visiting this page, you agree to terms and conditions, privacy policy & results disclaimer.

This site is not a part of the Facebook website or Facebook Inc. Additionally, This site is NOT endorsed by Facebook in any way. FACEBOOK is a trademark of FACEBOOK, Inc.
DISCLAIMER: The results stated on this page and discussed in Parrot Parent University are results obtained by previous or existing clients. Please understand these results are not typical. We're not implying you'll duplicate them (or do anything for that matter). We're using these references for example purposes only. Your results will vary and depend on many factors including but not limited to your background, experience, and work ethic. Training any animal entails massive and consistent effort and action. If you're not willing to accept that, please DO NOT ENROLL IN PARROT PARENT UNIVERSITY.